Vietnam Fast Track
Completed your TEFL course through us or another reputable provider?
Take our 2 Week In-Country Orientation, Practical Teaching Add-On And Job Placement Assistance.
Program on hold: We are currently focusing on our Vietnam TEFL Program (TEFL training plus guaranteed job placement) and are not currently running this program.
We are offering a $200 discount on our Vietnam TEFL Program for anyone that has previously completed a TEFL course: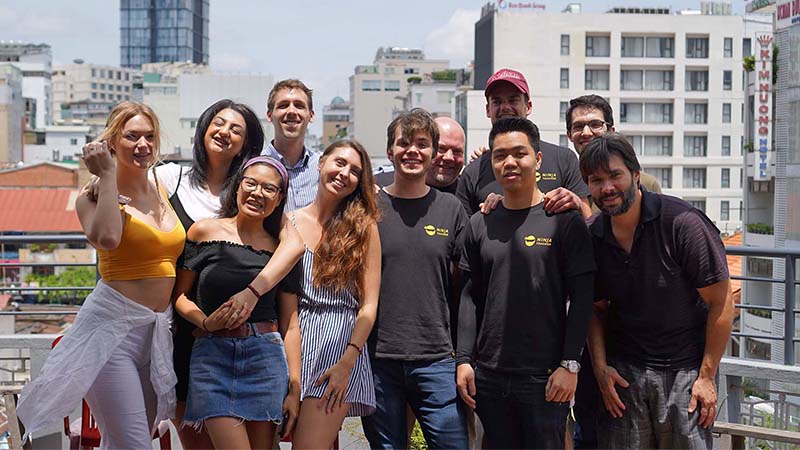 Program Summary
Our Vietnam Fast Track job placement program includes:
Visa advice & pre-arrival support.
In-country orientation and city tour.
A welcoming evening meet-up.
Meet up to 15 people in your cohort.
2 week classroom practical training and job prep.
6+ hours teaching practicum teaching at local schools.
Private community and ongoing in-country support.
Full job placement assistance.
Why This Program?
Teaching English in Vietnam allows you to earn $1200 - $1800 with living expenses as low as $600 - $1000 per month, and is an opportunity to travel, live in a new country and do something out of the ordinary.
We have successfully secured jobs for hundreds of people through our in-country programs because we've developed a unique process for helping people move to Vietnam and securing employment. This program helps you with the entire process from start to finish.
How It Works
Almost all English teaching jobs in Vietnam require you to already be physically in the country before they hire you, so sending out your resume while you're still in your home country is ineffective.
They require you to do in-person interviews and many also ask you to conduct a "demo" class before hiring you (more on this below).
Therefore, we have developed our effective hiring process to guide you through the entire process from start to finish and have helped hundreds of people secure jobs with this method.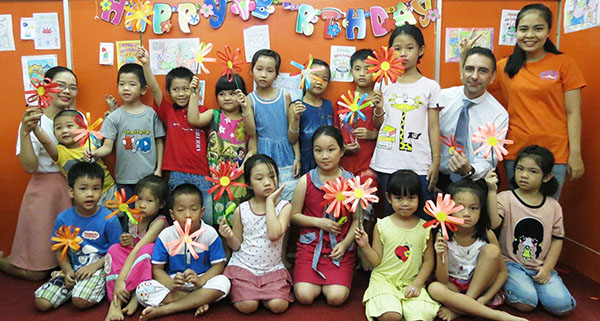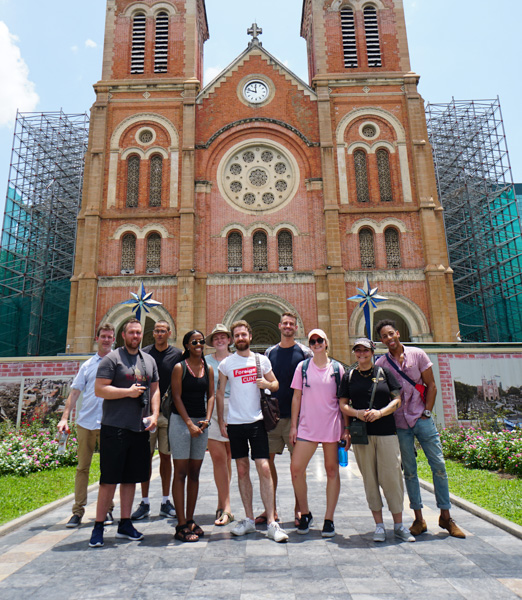 Week 1
Saturday: City tour.
Monday - Friday: daytime classroom sessions, including:
Orientation to Vietnam
Practical teaching classroom training sessions
Lesson planning for solo teaching
Peer teaching with mock students
Observing experienced teachers' classes
Observations and practical teaching at local schools on some weekday evenings.
Weekend: Off with some observation / solo teaching scheduled.

Week 1 Schedule
Week 1 will begin with orientations including a welcome evening and city tour. The first day will also include a tour around Ninja Teacher's Headquarters. In the afternoon, we will review warm-ups and ice breakers and give you a chance to practice presenting these.
You'll be starting observations on the second day. We'll go over brain breaks, warm-ups, and have a crash course on learning Vietnamese. We'll also have a chance to learn about Vietnamese schools and give you a better sense of different kinds of schools and age groups.
We'll finish up the week by practicing giving instructions and lesson planning for Solo Teaching which will begin on Friday. Friday morning will include a Career Readiness module, so please bring your computers as we will be working on CVs.




Week 2
Monday - Friday: daytime job preparation sessions, including:
CV building workshop
Mock interviews and preparation
Life abroad session
Presentations from employers
One-on-one job preferences discussion
Career readiness sessions with Q&A
Finish solo teaching in evenings
We begin submitting your resume to schools and start interviews
Wrap up and dinner
Practical teaching at local schools on some evenings.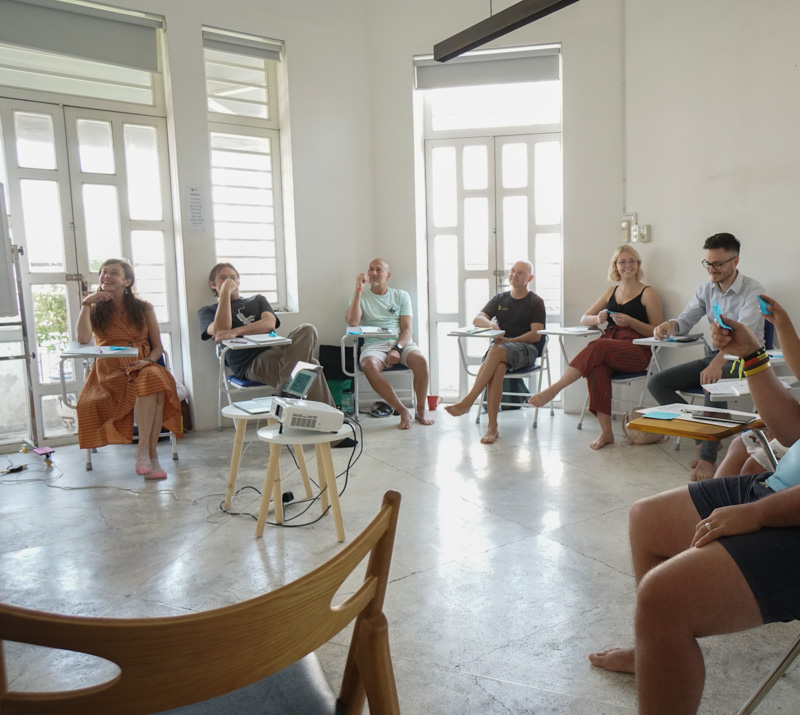 Week 2 Schedule
Week 2 will start with practicing presenting vocabulary, and we'll have ample time for lesson planning support. On the second day, we will discuss classroom management and what you've encountered so far in your solo teaching lessons. We'll look at different activities for the 4 skills: reading writing, listening, and speaking, and we will end the week with more information about settling into Vietnam for longer-term and presentations from our partner schools. Finally, week 2 will end with a Celebration for completing the Fast Track!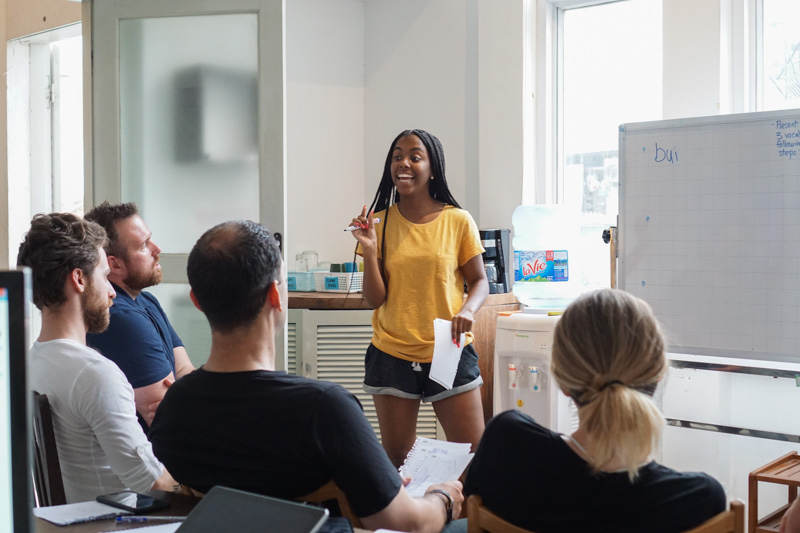 What are "Demo classes" classes and why are they important?
As well as requiring teachers to be in-country and interview in-person, schools will often require you to do a demonstration class, also known as a "demo class" before they hire you. This requires you to go into the school and actually teach a class with real students or mock students and be observed by school staff - and it is a big factor in whether they hire you or not. Intimidating, we know!
However, our teaching practicum add-on will help you feel prepared and do a fantastic job in your demo classes, whether you're a new or experienced teacher, so that you can secure the best teaching jobs in the country.
Visa Advice & Pre-Arrival Support
We guide you through the process of securing the necessary documents, legalization / authentication of documents, visas, booking flights, accommodation options for when you arrive and answer all your pre-arrival questions and concerns.
In-country Orientation, Welcoming Evening and City Tour
We include a welcoming dinner with your cohort of up to 16 fellow program attendees so you can make friends, meet our team and sample some of Vietnam's mouth watering cuisine.
Then we'll take you on a city tour day, to show you some of the top attractions of Ho Chi Minh City, have lunch at a local restaurant, become more familiar and comfortable with your surroundings and further get to know Vietnam, your fellow program attendees and our team.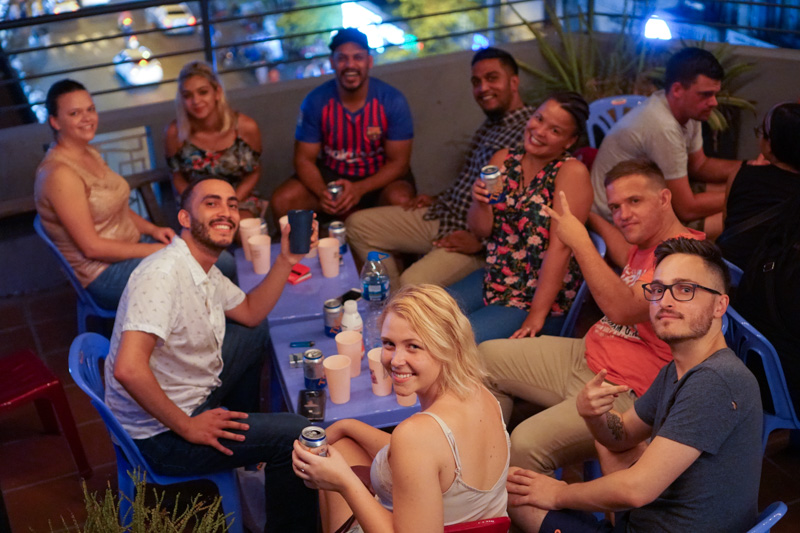 Meet Up to 16 People in Your Cohort
Nobody wants to arrive in a new country all on their own!
One of the benefits our in-country program participants say they love the most is the community we provide. By joining a cohort of up to 16 participants, you will meet likeminded individuals from around the world embarking on the same journey as you and going through the highs, as well as the challenges, of arriving and settling in a new country together. We have seen hundreds of our members make lifelong friends over the course of the program and their time in Vietnam.
We've also found this to be the optimal program size to ensure each and every person gets personalized attention and support from our team members.
2 Week Classroom Practical Training And Job Preparation
Many people who have completed an online TEFL course subsequently realize there's a big gap between the theoretical knowledge and actually being able to teach well in a classroom. Our practical teaching add-on solves this by giving you a chance to practice your teaching in an actual classroom environment.
This includes a number of classroom training sessions from our trainer in the first week where you get to practice your teaching with feedback from our trainer. This will help you feel confident to conduct an effective class and actually be a good teacher.
For experienced teachers, this is a good refresher and a chance to teach Vietnamese EFL learners before going into interviews and demo classes.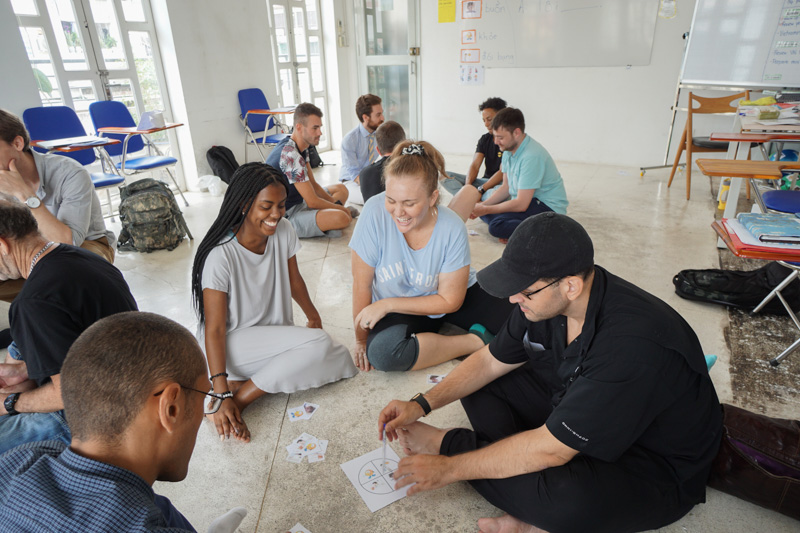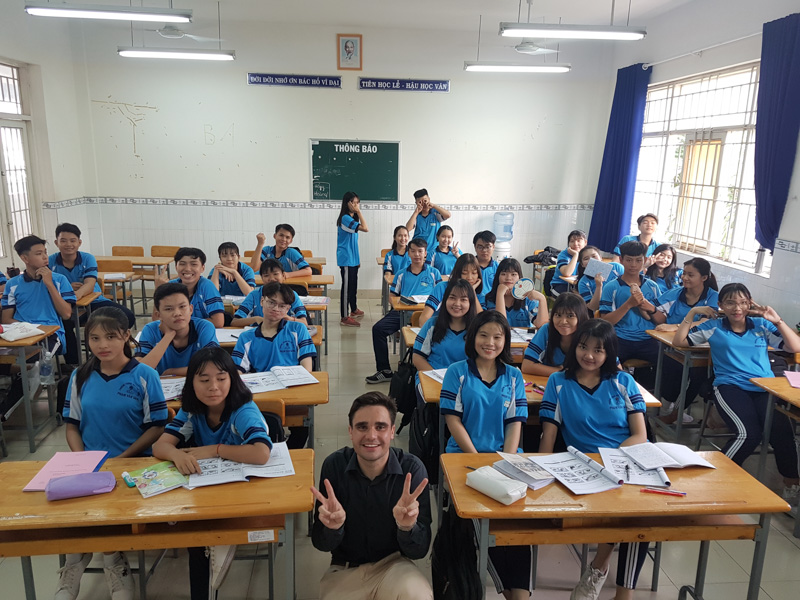 4+ Hours Teaching To Vietnamese Students
You will teach 4 hours of classes to real Vietnamese students to help hone your teaching skills and become comfortable in the classroom before you begin the job search process.
2+ Hours Observing Experienced Teachers With Vietnamese Students
You will also get to sit in on an experienced teacher's class with real Vietnamese students so you can see a class in action before taking the reigns.
Plus a second observation class where our trainer conducts a demo class with you and other program participants as mock students, so you can get a sense of what it feels like to be a student and see an experienced teacher in action.
Full Job Placement Assistance
We have close relationships and a great reputation with the top schools in Vietnam, plus extensive support during the hiring process, to ensure you are hired by the best school possible.
We know what schools are hiring at any given time, and set up interviews for you with the right schools.
We send your resume to schools in our network and work with you until you've secured employment with a school in Vietnam.
We will begin sending your resume out to schools after the job placement preparation in week 2.
The success of our job placement process happens because of a combination of all the training, preparation for interviews and our network of schools.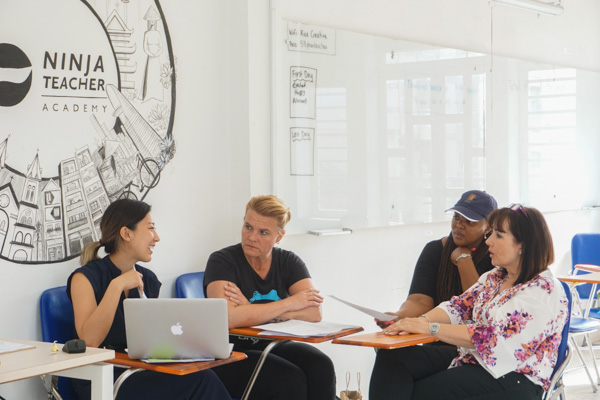 Lesson Planning Support
Get one on one help with your lesson plans in preparation for your practical teaching and for demo lessons.
CV / Resume Workshop
We'll conduct a CV workshop so you know the best practices for resumes in Vietnam, give you feedback on your resume and ensure your resume is ready to send out.
Private Community
We have an exclusive online community on our own platform, to provide a safe, private and interactive space to connect with others on your program and get advice and support from previous program attendees and our team.
Ongoing In-Country Support
You'll have access to our team for advice and support throughout the duration of the program and your time teaching in Vietnam. Once you join an in-country program with us you're part of the Ninja Teacher family and we're there to support you throughout your time here!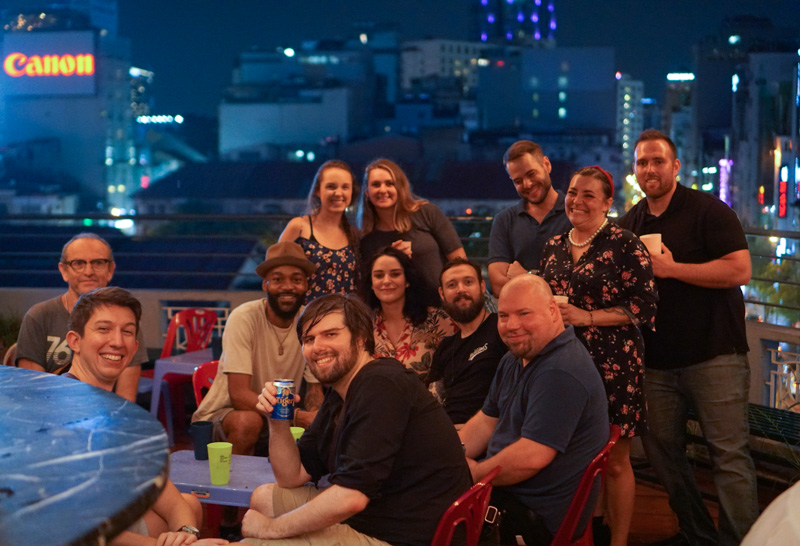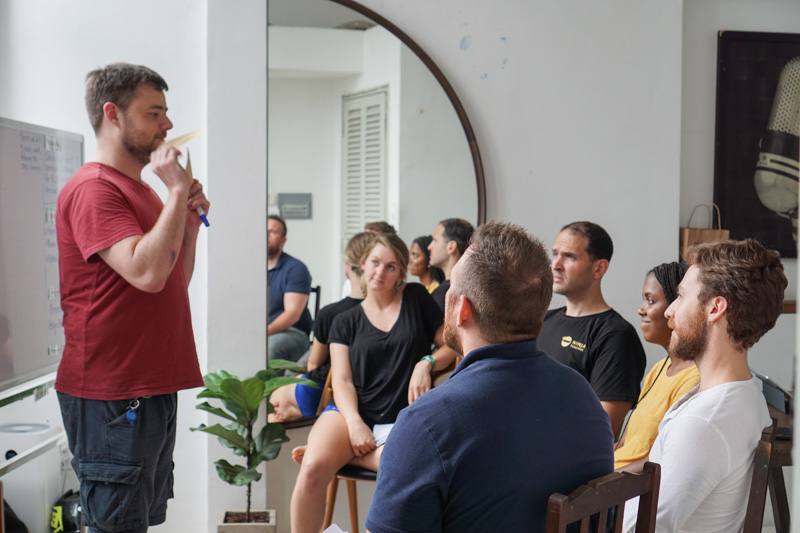 Personalized Job Discussion Session
We conduct 1-on-1 job coaching sessions where we'll spend time chatting with you to determine what you're looking for in a teaching position, and answer any questions that you might have as you prepare to go into the hiring process.
Exclusive Ninja Teacher Community Events
Network and make friends, including access to welcoming dinners with future cohorts and other events organized in the community.
Interview Preparation
We also do a session on interview preparation, to ensure you know what kinds of questions schools will ask you and even give you a chance to do mock interviews with other program attendees.
Accommodation Recommendations
We're based in the center of Ho Chi Minh City which offers hundreds of nearby accommodation options. Once enrolled we'll suggest short term accommodation options for during the program. The cost of accommodation in Ho Chi Minh City is very affordable and there many short term housing options that you can choose from while completing the 2 weeks, after which you'll find an apartment in an area you like and based on your job location. We'll provide real estate agent and resources or finding an apartment, with many options in the $300 - $500 per month range.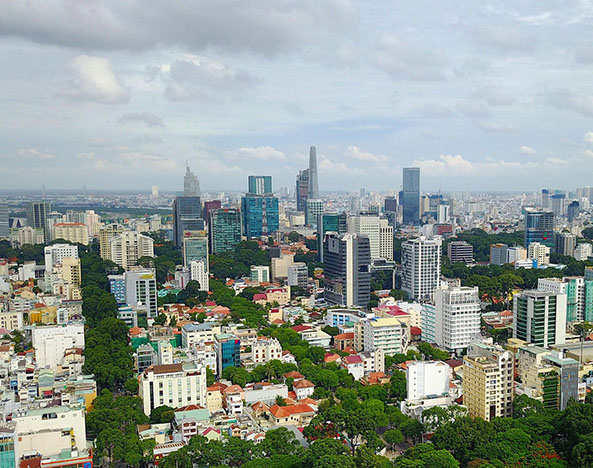 Supplementary Online Platform
Requirements
1) Completed a 120 hour or more TEFL certification.
You need to have completed the Ninja Teacher Online TEFL Course or another TEFL certification which meets certain standards. The course must have included actual assessment on your knowledge and lesson plans from a real tutor and you should feel prepared to create a lesson plan after the course. If that's not the case, we recommend taking our online TEFL course first. Groupon quality courses without real assessment are not accepted.
The certificate must also be authenticated for use in Vietnam before the program start date. If for any reason a TEFL provider's certificate cannot be authenticated / accepted for use in Vietnam, we won't be able to fulfil job placement until you have completed an accepted course.
2) Submit a short application to demonstrate a basic level of TEFL knowledge and skills.
You will need to complete a short application to show you are familiar with lesson planning and the foundations of teaching ESL. If you do not feel confident in this we advise taking our Online TEFL Course first, then applying for this program, or taking our full Vietnam TEFL Course instead.
2) Completed a bachelor's degree in any subject.
This is required by the Vietnamese government in order to obtain a work permit and work legally. The degree can be of any major as long as it is a full bachelors degree from an English speaking university / college.
Don't have a degree? Consider our TEFL Extension job placement program in Cambodia. Cambodia is the only country in Asia where one can legally teach without a degree.
3) Native English Speaker from either the United States of America, United Kingdom, Canada, Ireland, Australia, South Africa or New Zealand.
While at Ninja Teacher we believe that anyone can be a good teacher, there is a strong demand for native English speakers in Vietnam which makes it so we cannot ensure placement from those who are not from the above countries, and we do not want to bring anyone out to Vietnam who we are not 100% confident we can help secure employment. In addition, some of our partner schools where program attendees conduct practical classes only allow native speakers, and this is an essential part of the program.
4) Be fit and healthy as a basic health screening is required to secure a work permit.
Any pre-existing physical or health conditions should be cleared with our enrollment manager.
5) Able to obtain a clean criminal background check from home country (some exceptions may apply).
Ninja Teacher Academy Reviews
Apply Now - submit an application in order to be offered a spot and reserve your place: