Online TEFL Course With Accredited Certificate

Earn A Full Time Income By Teaching English Abroad Or Online

We've Helped 1000+ People Start Teaching English Abroad
In Partnership With Top Companies Including:
What's Inside The Ninja Teacher Online TEFL Course?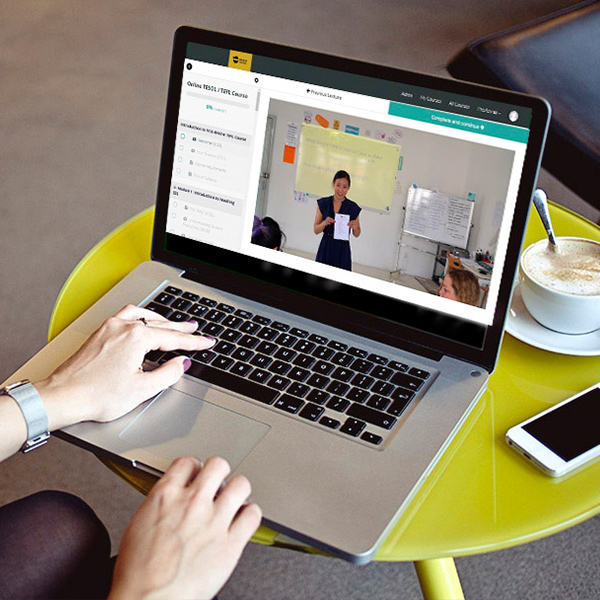 50+ Video Training Lessons
10+ hours of video training, including videos of classes with real students and the video recorded sessions from our 4 week in-person TEFL course (normally $1497)

Online Live Training Sessions
Join your trainers for regular online live training sessions to get your questions answered, practice your teaching skills and get personalized feedback ($297 value)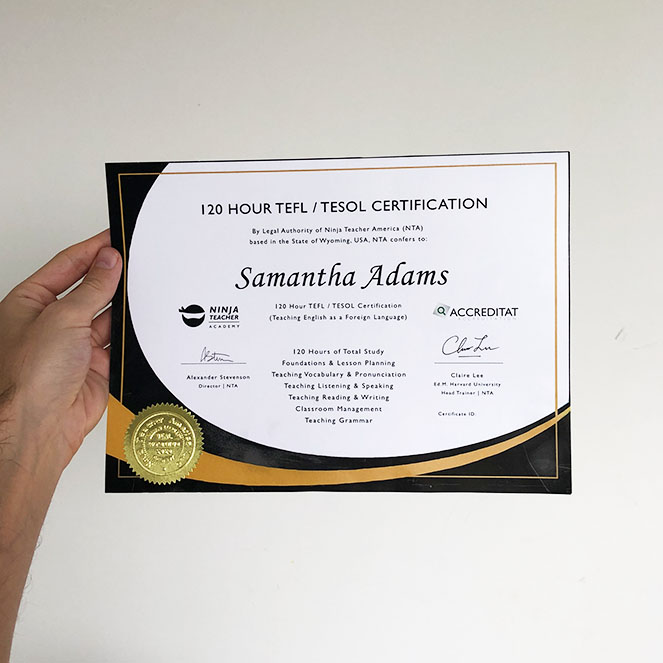 Accredited TEFL Certificate
Your 120 hour accredited TEFL certificate will be sent to you with international shipping included at no extra charge. You'll also receive a digital version on completion of the course ($197 value)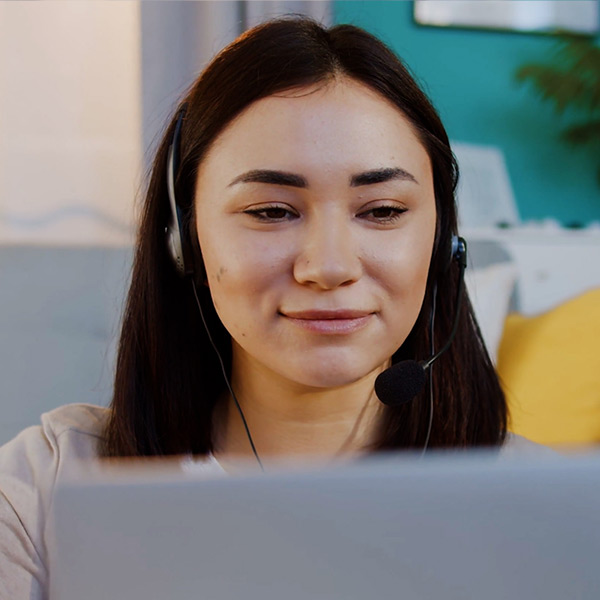 One-on-One Feedback
Get direct feedback on your assignments and lesson plans from our trainers, and all your questions answered ($197 value)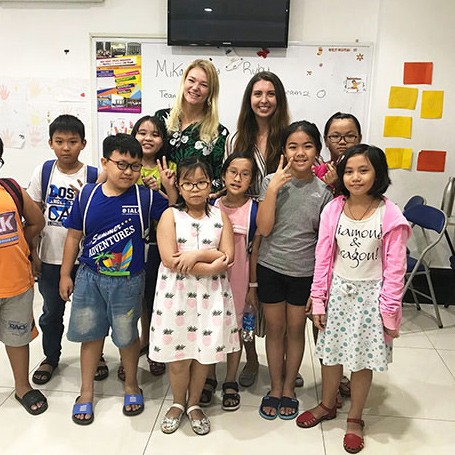 Network Of 100s Of Schools
Get access to our updated network of 100s of schools around the world and online teaching companies to secure employment ($97 value)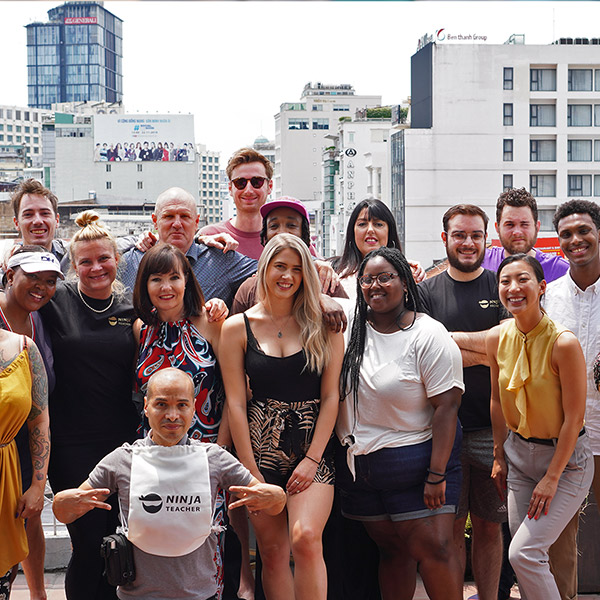 Private Community
Join our exclusive community of alumni to make connections with like-minded individuals and get direct access to our team for support ($97 value)
About The Course
This TEFL course will equip you with the skills, knowledge and certificate needed to get a job and start earning an income teaching English abroad or online from home.
A great option to get TEFL certified right now, in your spare time, from home and at your own pace.
We offer an accredited and US issued 120 hour TEFL / TESOL certification. Teaching English as a Foreign Language (TEFL) certificates are required by the majority of employers around the world in order to land a job and start earning.
On completion of your course you will be issued an electronic version of your certificate and your hard-copy certificate will be mailed to you at no extra charge.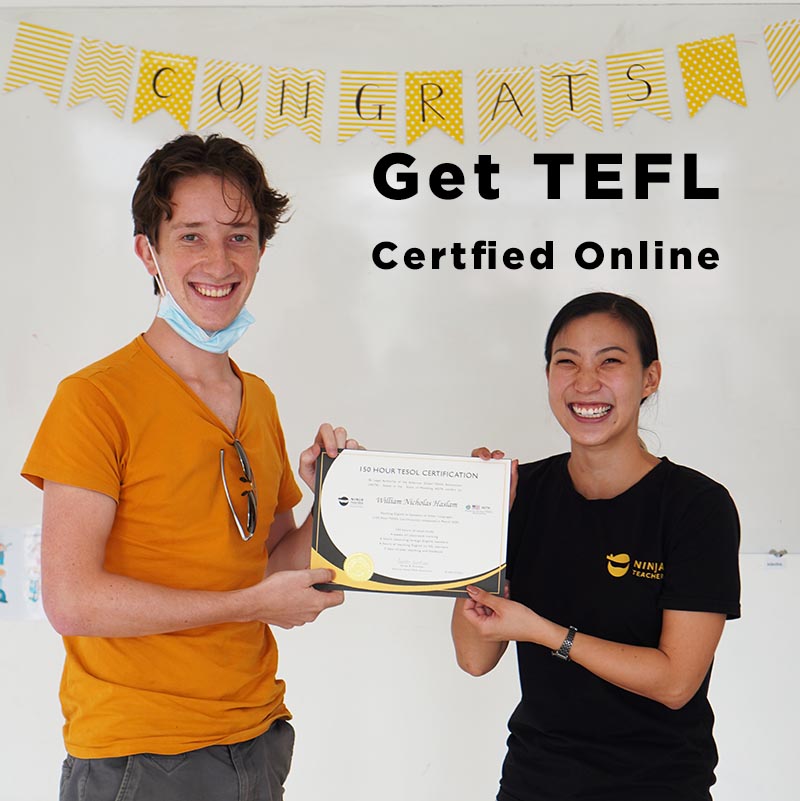 Internationally Accredited TEFL Course
Our Online TEFL Course has been accredited by ACCREDITAT, an international accreditation body which means our course has been assessed against internationally recognised standards to demonstrate the competence, impartiality and performance capability of the course.

Course Contents
50+ Video Lessons With Over 10 Hours Of Video Recorded Training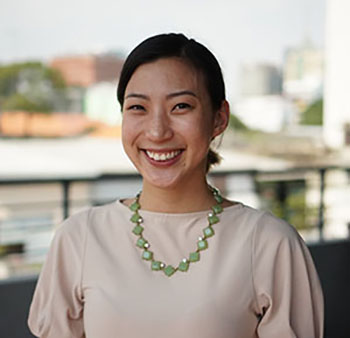 Video Training Sessions From Our Trainer With An M.Ed from Harvard

Claire Lee
Master's In Education From Harvard University
California State Teaching License
TEFL Certification​ in Teaching
TESOL Training of Trainers Course for EL Program Coordinators
Claire is a professionally-licensed English teacher in the US. She has over 7 years of teaching, curriculum development, and teacher training experience. She has a Master's in Education from Harvard University, has completed and run numerous teacher professional development courses and has taught English and lectured around the world.
Simply put, unlike most courses in this price range, we effectively train you to have the knowledge and practical skills needed to demonstrate you are an effective teacher to employers in order to secure a job.
Teaching English as a Foreign Language is an extremely nuanced and practical skill-set, and the truth is that the market is flooded with low quality TEFL courses, often just text based, and the vast majority include little focus on practical teaching skills.
We've created an online TEFL course that provides the closest thing possible to replicating an in-person training course, allowing you to make an actual transformation by giving you the actionable skills you need to be an effective teacher and secure a job.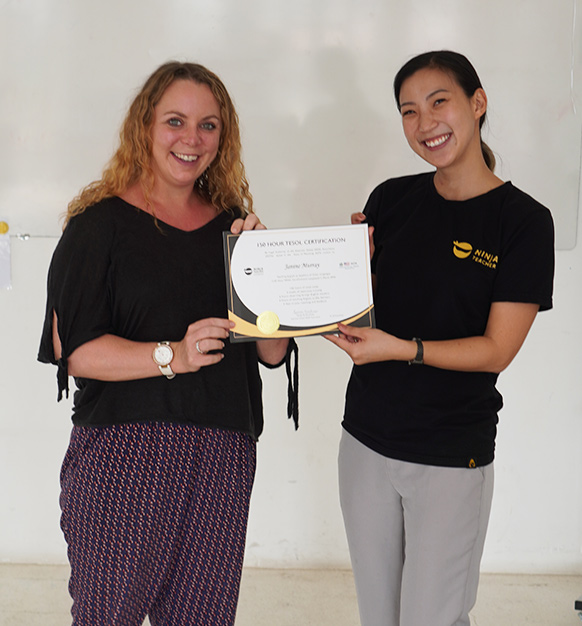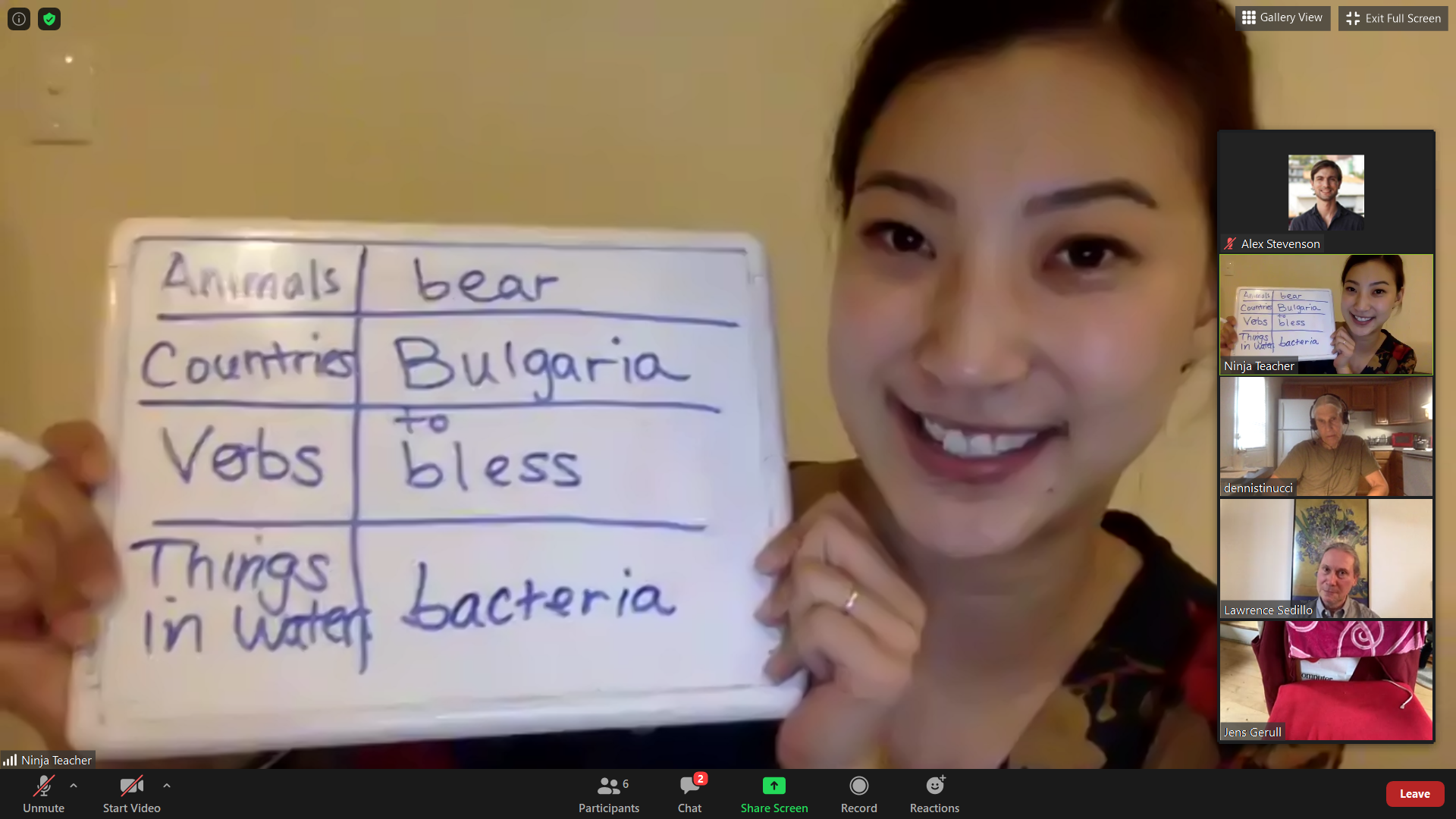 Online Live Training Calls

Join your trainer and classmates for live Q&A sessions, practical training and assignment support.
Join as many or as few of the online live sessions as you like while you are working through the course in order to make the most of the training by getting direct responses from your trainers, your questions answered, and a chance to practice your teaching skills with your classmates.

Video Recorded Training Sessions From Our 4 Week In-Person Training Course
Unlike many TEFL courses at this price point, which are usually primarily text-based, our course includes 50+ video lessons for a total of 12 hours of video recorded training footage.
This includes the training sessions filmed during our in-person training course so that you can observe and model our trainer in action. In addition we include videos of real classes taught by our experienced teachers to real Vietnamese students so that you can learn exactly how classes should look.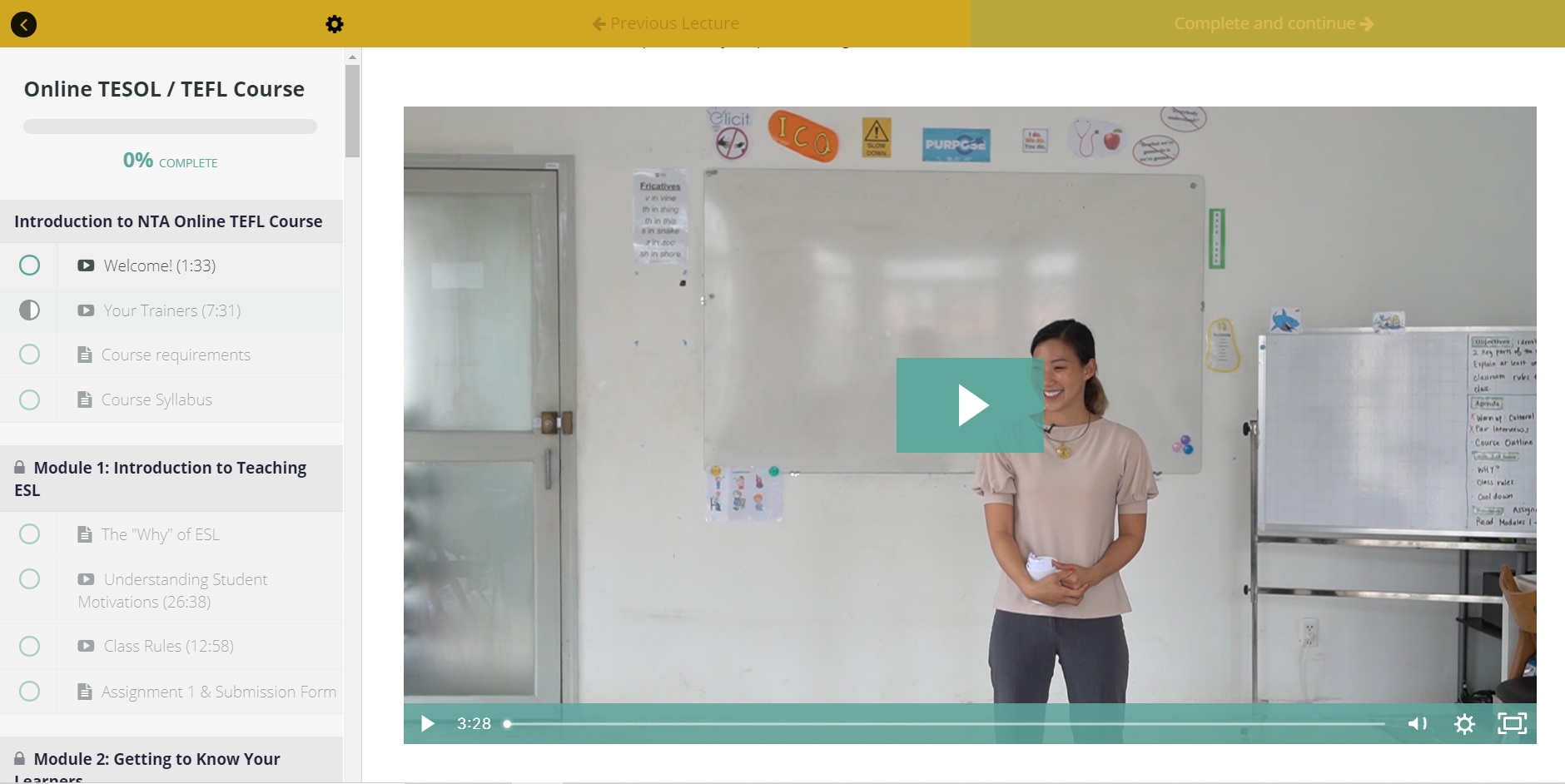 Modern Online Learning System
This multimedia course will teach you the most important, actionable skills you need to be a great English teacher. Our modern online learning system contains supplementary material, quizzes and resources to make this course the best online learning experience possible.
Bonus 1: Teach English Online Course (Normally $27)
Learn how to earn $10 - $25 per hour from home by teaching English online. While our Online TEFL Course does teach all the skills you need to be an effective teacher, both in the classroom and online, this course goes a step further by breaking down some additional skills, tricks and techniques that will help you be a great online English teacher and get a job.
1.5 hours of video training modules on how to teach English online.
5 video case studies from teachers about the online teaching company they work for with details of salary, what it's like and tips for applying.
A database of 100+ online English teaching schools to apply to and secure a job.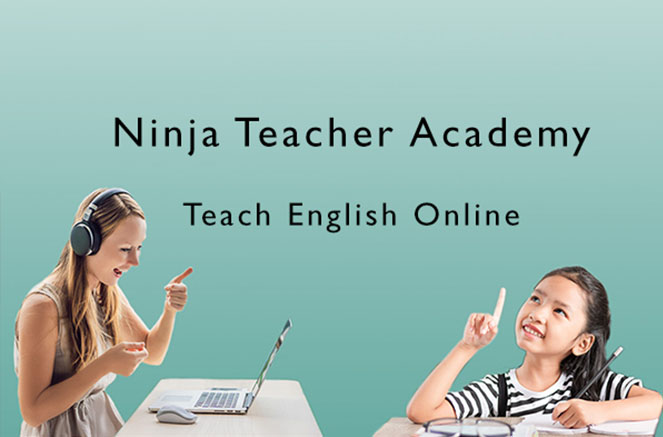 Bonus 2: Get up to $350 OFF if you upgrade to our Vietnam TEFL Program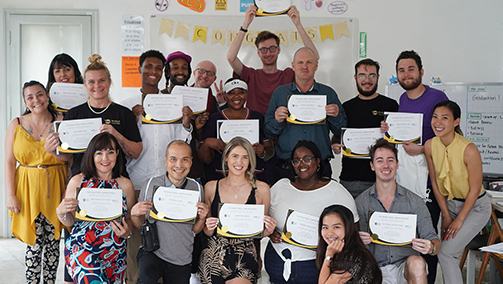 Trainees who enroll in the Online TEFL Course receive a discount in the amount of the program fee (currently $350) off our Vietnam TEFL Course if they would like to upgrade in the future. You must meet Vietnam program requirements to take advantage of this discount.

Ninja Teacher Academy Has 100+ 5 Star Reviews On Independent Review Sites

"I would definitely highly recommend it. I've taken many classes online before but this one was very well thought out as a user friendly course. You guys did an amazing job." - Sean
Sign Up For Our Online TEFL Course Today
50+ Video Training Lessons ($1497 value)
Online Live Training Sessions ($297 value)
Internationally Accredited TEFL Certificate ($297 value)
One-on-One Feedback ($197 value)
Network Of 100s Of Schools ($97 value)
Private Community ($97)
Bonus 1: Teach English Online course ($27 value)
Bonus 2: Discount on Vietnam Program (Up to $350 value)
Total value: $2,800

Enroll Now - Was $450
Now Only $350
Get $100 Off For A Limited Time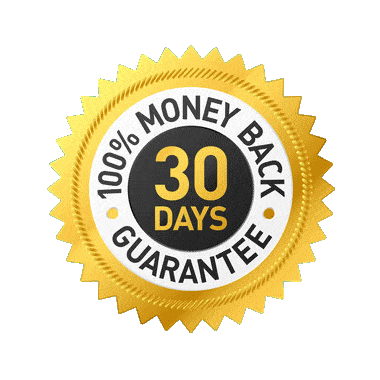 30 Day Money Back Guarantee
We're confident our course is of the highest quality and we're willing to put our money where our mouth is. If you are not satisfied with the course, as long as you let us know within the first 30 days (and haven't progressed through more than 50% of the content), we'll send you a full refund.

Frequently Asked Questions
What are the requirements to take this course and teach English abroad or online?


Our online TEFL course is open for enrollment and completion for anyone who is fluent in English and would like to learn the skills and receive a qualification to teach English as a foreign language.
With that being said, it's important to note that a completed Bachelors degree (in any subject) is required by many countries to legally work. Some, countries, such as Cambodia, do not require a degree.
Likewise, some online teaching companies require a degree but there are also those that do not.
Additionally, many countries designate certain nationalities as "Native English Speakers" or NESs as those who have a passport from either the United States of America, United Kingdom, Canada, Ireland, Australia, New Zealand or South Africa and NESs are preferred by many (and required by some) governments and schools.
For non native speakers we recommend an IELTS band 8 or C1 level or equivalent to have a high enough level of English to complete this course.
How will I be assessed in this course?
The course assessment compromises of completing online quizzes, submitting written assignments, submitting short videos and submitting completed lesson plans.
Do you offer a money-back guarantee?
Yes! We're confident our course is of the highest quality. If you are not satisfied with the course, as long as you let us know within the first 30 days (and haven't progressed through more than 50% of the content), we'll send you a full refund.
Will you post my certificate to me?
Yes, we include free shipping of your certificate to wherever you are in the world via regular mail. You'll also receive a scanned copy shortly after course completion. You can opt for expedited shipping of your hard-copy for an additional fee depending on what country you are in.
Can my certificate be used for a working visa?
Your certificate can be used to obtain a working visa in countries like Vietnam and China that require a TEFL as part of your application for a work permit / visa. In these countries all your documents, including your TEFL, need to be authenticated which is not included in the cost of the course. Instructions on how to complete this process are included in the course.